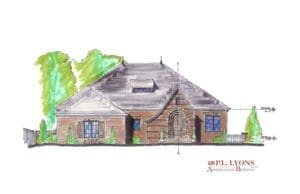 A couple of years ago, we had the pleasure of building a few of the Homearama homes in Shakes Run, and to this day it is still one of our favorite communities to build in! It is a beautiful area that works well with our unique style and house plans, and our experience working with the developers makes us one of the top builders in the neighborhood.
We created a Shakes Run community page on our site with information to help home buyers who are trying to decide where to build their new home. The landing page shows the lots available in Shakes Run, schools, shopping and places of worship in the area, as well as information on taxes, maintenance and utilities.
We also have a sample of two of our most popular house plans that work well in the neighborhood. You can check out the Shakes Run Landing Page to get an idea of what it would be like for you and your family to build a home in Shakes Run.
Top 3 Reasons to Build a Home in Shakes Run
Beautiful landscapes: A quick trip out to Shakes Run will make you feel like you're in the country with beautiful landscapes and a quaint Southern charm feel. Many choose Shakes Run for its beauty. feels like it's in the country, but 5-10 minutes from Shelbyville Road.
Conveniently located: Sometimes when choosing where to build your home, you have to sacrifice beauty for location. At Shakes Run, you get the beauty of a small town neighborhood with the perk of being conveniently located to shopping, a grocery store and the Gene Snyder freeway that will get you anywhere you need to go in Louisville.
Green Community: All over Louisville, Shakes Run is known for being an "green" neighborhood. If you are interested in environmental friendly living, check out our blog post Shake's Run is a "Green" Community.
Make sure to check out our Shakes Run community page for more on this awesome neighborhood! Over the next few weeks we will be launching more community pages including Spring Farm Lake, Norton Commons, Poplar Woods and Locus Creek, so make sure to check those out as well!