The farmhouse aesthetic has been a popular home style for decades, found on actual farms and in modern, suburban areas alike. As an architect and designer, I get requests for this style of home very frequently. There are some elements that have always accompanied a farmhouse from its early years while there are other features that have just become popular in recent years. Since our company prides itself on the ultra-customization of a home, we believe we can include pretty much any architectural or design style and still call a farmhouse. Still, there are some features that best compliment that aesthetic.
The first thing that comes to mind for many people for a farmhouse is a wrap-around porch with somewhere to sit. Farmers used to use these back in the day to sit and watch their crops and their children towards the end of the day. It's a romantic feeling that everyone is trying to recreate in today's market.
Another item on the checklist to achieve the ideal dream farmhouse is woodwork on the inside of the house that's often painted– whether it's chalk paint or the white wash look. This technique was used in original farmhouses due to efficiency, speed, and durability. For example, shiplap–a term made popular recently by Joanna Gaines of Fixer Upper– has been used for centuries because it's easy to procure, to construct, and to hang things from.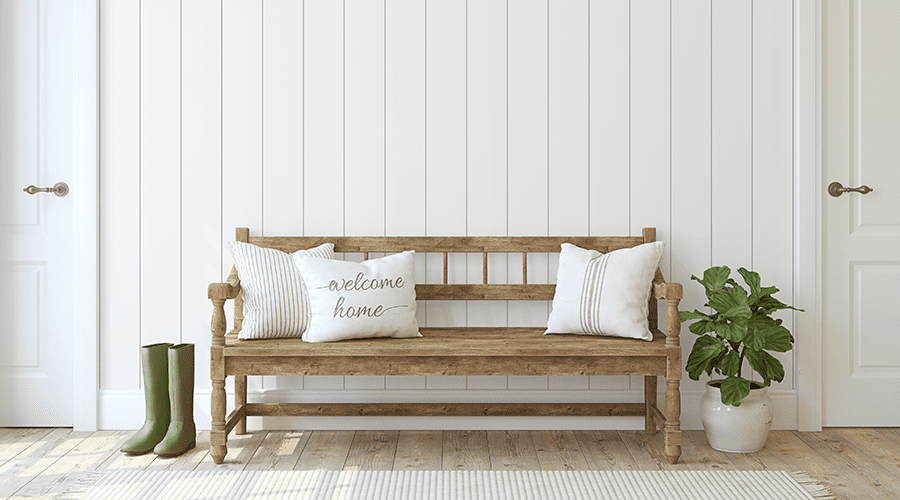 Old school, rural farmhouses did not have some of the craftsmanship that modern ones do, that's for certain. For example, square moldings, all of the bedrooms on the second floor of the home to utilize space, and the lack of an open concept layout were common in all older farmhouses. Plumbing was not included either!
Older farmhouses had large windows throughout the house which has translated to the current, modern farmhouse look as many homeowners long for lots of natural light. Another common trend we see in modern farmhouses is wood floors, lightly varnished.
Many members of the P.L. Lyon's team grew up in traditional farmhouses, including its founder, Perry Lyons.
"I have a lot of great memories growing up in a true, old farmhouse." -Perry Lyons, Founder and CEO of P.L. Lyons 
Ultimately, there are many ways to describe what a farmhouse is. So we wanted to address one of your most common questions about how to achieve a farmhouse that honors the old traditions while including the new.
Does a Farmhouse Have to Be Made Out Of Siding?
Many people ask us if a farmhouse can be made out of brick or if it must be made of wood siding. The answer to this is no; brick is used for farmhouses today just as much as siding. However, many people used siding back in the day because it was so readily available. Many people would go out to their backyards and cut some of their Poplar tree, then use it to build the house and framework. Whereas with brick, you had to ship in the brick materials for your house, making it a longer process.
In the modern market, the material you choose to build your farmhouse out of is all up to preference and the costs you are willing to spend. Almost anything can be retrieved efficiently today.
"You're not trapped. If you love a brick house but want to do a farmhouse look, you can do a brick farmhouse. It doesn't have to be siding." -Ben Robbins, Architect and Designer 
We love the diversity that modern farmhouses can bring to a neighborhood and enjoy seeing the different style choices our clients make when selecting materials, fabrics, and elements that go into their specific home's vision. When pressed though, we do have our top list of the features we think go best with the Farmhouse aesthetic. Here's our List
The List of Features Almost All Modern Farmhouses should Include:
Light colored walls
Blue ceilings on the porch is a popular trend
Open Concept with Vaulted Ceilings
Farmhouse sink
Shiplap on the walls
Sturdy handcrafted furniture from distressed woods and wrought iron (mixing steels with natural woods)
Natural color palettes or neutral shades in the furniture and finishes, including white, gray, cream, and greens
Open shelving filled with common items and antique pieces
Upcycling and renovating interior design features so that the old becomes new
Natural fibers and white washing for that worn, lived-in look.
P.L. Lyons Can Build YOUR Custom Farmhouse
We can design whatever style of farmhouse you are looking for and make it come to life. As a certified designer and architect, I will personally sit down with you and review your designs and vision so that we can adjust things wherever and however you'd like- from shifting doors around to raising the ceilings in your home.
We love the farmhouse aesthetic! We love mixing the old with the new when we can, so we'd love to help you with that. But no matter your style preference, P.L. Lyon's can customize to you.
Our ultimate goal with every custom designed home we build is to capture our client's individual taste and make it shine throughout every element of their house. The farmhouse is a timeless, classic style of home that has evolved over the years and we are thrilled to continue to see where the decades take us when it comes to home design. If you are interested in designing your own custom, modern farmhouse, I'd be happy to have a design conversation with you! Also click here to watch our video where Perry and I talk in depth about our thoughts on what makes a farmhouse.
By Ben Robbins, Architect
"You can be a traditionalist, meaning you like farmhouses, but you can update it and make it unique to you." -Ben Robbins, Architect and Designer