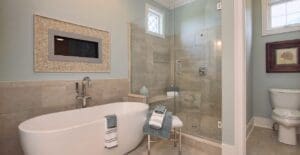 Making the decision to stay in your home often means you start looking for ways to update and maintain it. Remodeling is a great way to slowly add value to a home while still keeping it livable and without the inconvenience of uprooting your family. But not all remodeling decision are equal. Some home updates can actually negatively affect your home value. When looking to redo a kitchen or finish a basement, there are many things to consider first.
Remodels that Increase Home Value
Remodel the Kitchen– Remodeling the kitchen can add 60-120% worth to your home, but be careful not to go overboard. Your stainless steel, chef-worthy kitchen may not be suited for an old victorian house. Think of the community surrounding your house, and have future buyers in mind when making drastic remodeling choices.
Fresh Paint– Paint is inexpensive and can spruce up any part of your home. The front door, kitchen cabinets, an accent wall, porch, or whatever you can think of.
Add a Bathroom– You can recoup 80-130% of home value just by adding an extra full or half bath. Look for unused closet space or repurposing small rooms. Have an inspector come and see what walls can be knocked down before taking on an add-on project.
Reinvent a Room– Finish the basement or convert the attic into a guest room. You can also add small apartments above garages. Homebuyers love when a home has an extra space or a bonus bedroom. Your future guests will love it just as much.
Add a Deck– A back deck or a front porch can be a simple weekend project. A wrap-around porch can transform your home into a country dream. It's a great place for your family to host BBQs and lounge in the summer. Future home buyers will be dreaming of living the life you lived on that deck.
There can be sentimental reasons for not wanting to move or financial reasons. But in the end, when you make the choice to stay in a home for another five or more years, odds are you will want to make some kind of upgrade to the home. The best kind of upgrade is the one you have the opportunity to enjoy, but will provide the same comfort the another family for years after you leave.