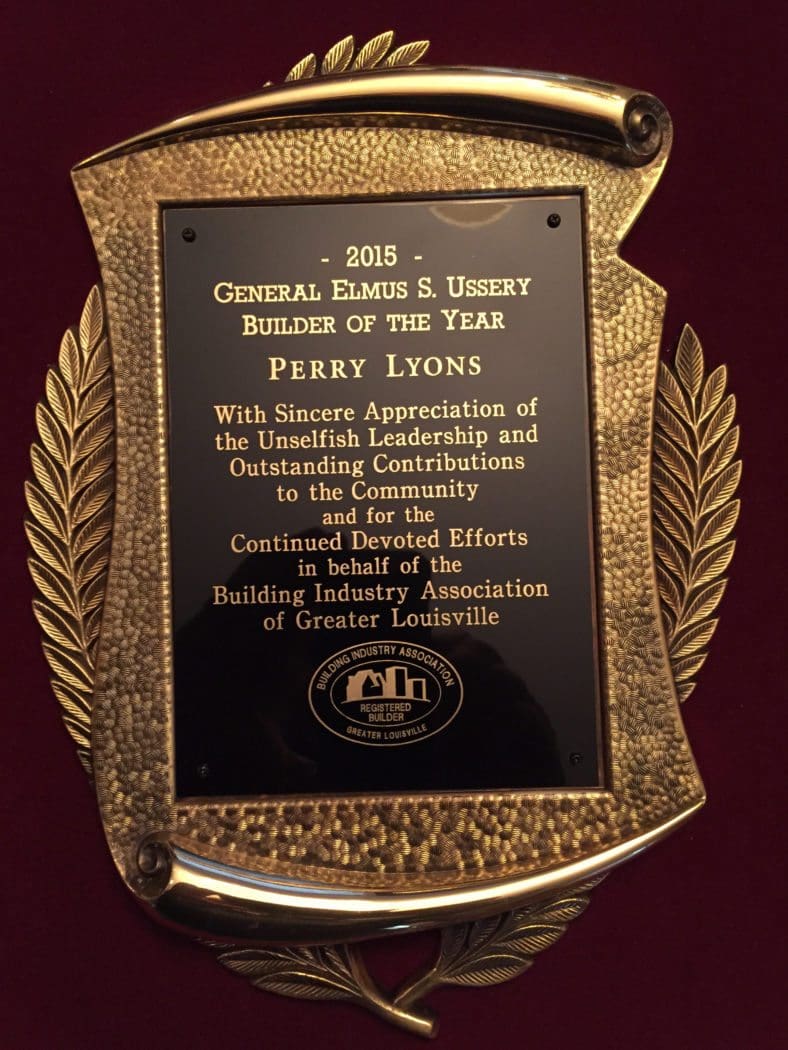 Every year, the Building Industry Association of Greater Louisville presents the "Builder of the Year" award at their holiday party, and this year, our very own Perry Lyons was chosen!
For those of you who don't know, the Building Industry Association of Greater Louisville (BIA) is a trade association of residential and commercial builders and developers who work in the area. The board has just under 2,000 members.
The event was held at the Hyatt Regency hotel in Louisville, and we enjoyed a beautiful night together as a team! Thank you to all of you who have done business with us in the past and given us the opportunity to build a name for ourselves in the community. You all are the reason we are able to do what we do, and we celebrate you along with our accomplishments this holiday season.
Perry's Accomplishments:
A committee was put together to determine this year's Builder of the Year, and some of the accomplishments that made Perry stand out are listed below:
Perry has been building beautiful homes in Louisville and surrounding areas since 1974 and has been involved with BIA since that time
In 2015 Perry and his partners built four of the 11 Homearama homes, contributing greatly to the annual event
The previous year, he and his partners built two of eight Homearama Houses at Shakes Run
In 2014 he served as president of BIA, Immediate Past President in 2015, and will serve again as Immediate Past President in 2016
Perry was one of the first of two builders to take a chance and do a lot draw at Homearama Spring Farm Lake
He has been very involved the past two years in the Shelby County High School Construction Trades Program, mentoring students in preparation for their competition at IBS
Every year he participates in the Shelby County Construction Career Days, inspiring students in the trade
Perry has been involved in the legal side of the building industry as well, lobbying for codes at the local, state and national level and chairing for the State Codes Committee this past year
He has established himself as a leader at BIA, focusing on workforce development in the building industry
In addition to all of this, he finds the time to volunteer at church and other community organizations
We are so proud of all that Perry has accomplished over the years and are thankful for his great leadership at our company. If you see Perry out, make sure to congratulate him on this great achievement. And as always, feel free to contact us for any questions or inquiries on building your dream home!