Designing a luxury home is no easy project to tackle. For starters, you need a dedicated team of custom home builders who specializes in luxury homes.
And you shouldn't choose just anybody. But after you do pick your trusted team of builders, it is important to stay involved throughout the design and building process from start to finish. Additionally, you will want to come into your design project with your own ideas from the start. Today we want to share some of our top insights on how to design a luxury home that will stand out amongst neighborhoods filled with newly built homes.
Prepare A List Of Ideas Before Beginning Your Home Design
From structure elements, to finishings and textures used throughout your home, you should have at least a sense of what kind of styles you want incorporated into your dream home before it can become a reality. In a custom-built luxury home, every detail matters and should be a reference of your personal style. There are multiple factors to consider when creating a list of needs for your custom luxury home, including:
Number of Bedrooms/Bathrooms
Extra Spaces: Office, Children's Play Room, Home Gym,
Mobility Needs: Wheelchair Accessible Ramps/Chairs
Another consideration you must include in your home design plans are your lifestyle preferences. For example, if you love staying indoors and cozy during the colder months of the year, you should consider building a fireplace inside for natural warmth. In contrast, if you enjoy being outdoors and entertaining guests during spring and summer, an outdoor patio and deck with TVs and a grilling setup.
In our experience, here are a few features that take a home design to the next level when it comes to a luxury experience.
Custom light fixtures
Smart home capabilities
Special installations such as a wine room, safe room, and theater room.
Custom woodwork used in ways such as cabinets and doors.
Architectural and design decisions like these can truly transform your space, making it not only feel like yours but also like the one-of-a-kind house that it is. Also, creating the list of your wants and needs within your luxury home will ensure that your builders stay aligned with the same goals and that you accomplish as many as possible throughout the process.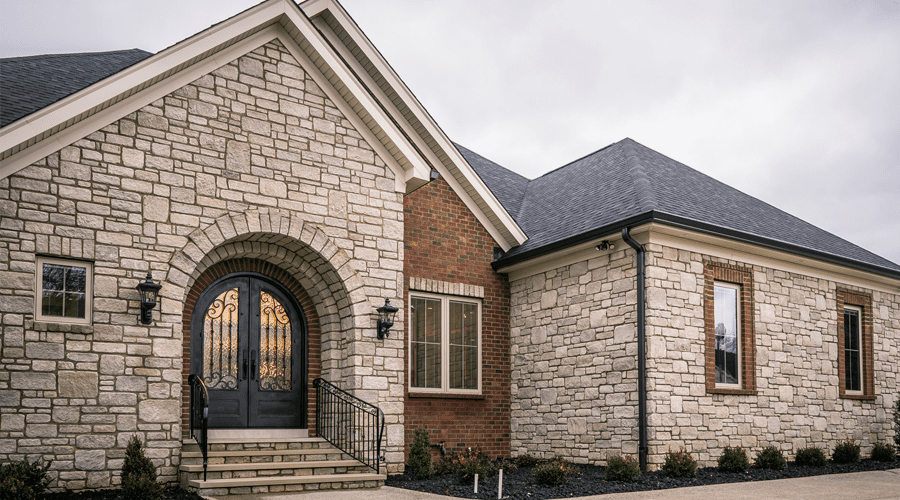 Choose The Right Team of Builders
There are numerous companies of custom home builders to choose from no matter where your market is, particularly in Louisville, KY. How can you pick the right team for your luxury home build? Here are a few pieces of criteria that you can follow to find a company that is the right fit for you and your home:
You have a compatible budget compared to the homes they build.
Their design styles are similar to your own– i.e. they are up-to-date on current styles, trends, and patterns of design within the industry. 
Their company shares the same morals as you do.
Browse their website to see their previous work and portfolio of homes. 
As a homeowner, it is crucial that you trust the team of builders, designers, and architects that is designing your home. They will be there for many days, weeks, and months completing your project and you should be able to trust in the work they are doing. Trust us from our years of experience, having a great team behind your ideas and vision will only produce the best possible home design you could hope for!
Stay Involved In the Entire Design and Homebuilding Process
After you have created a list of your must-haves in your dream custom home, you will want to remain involved throughout the building process. Many homeowners will bow out of the home building process once they have communicated their dream plans with their builders. We do not recommend this for a few reasons. For starters, if you are not consistently checking in on the progress of your project, things may not be going according to your plans. Second, you should have open and regular communication throughout your homebuilding process. This will allow your project manager to inform you of milestones throughout the journey and any hiccups they need your assistance with.
Home design projects can sometimes get overwhelming if you let them get out of scope- both financially and time wise. This is another reason you should keep track of the status of your home design plan and how it is aligning with the actual building process. Never be afraid or hesitant to reach out to your team of builders and let them know if you are unhappy with part of your home's design. After all, this is your luxury home.
If you're looking for a team of trusted, local builders to design and build your dream home- our team at P.L. Lyons is ready to help! A great start is to schedule a free design consultation with our Architect, Ben, so we can start discovering what you're looking for. He can help you put pen to paper, making the vision of your luxury home come to life.
We guarantee the home we build together will stand out amongst the crowd.