If you're looking to start a commercial building or remodeling project, there are plenty of options out there for you. Today, however, we're going to talk about how a design-build firm is set apart from the rest. If you've been frustrated by a commercial construction project or your stakeholders have concerns about beginning one right now, a design-build process could be exactly the right method for you.
What is Design-Build?
Design-build is a method of construction in which the building owner works with one entity under one contract! This system is an increasingly popular method of building where architects, head builders, contractors, and more work altogether from the beginning to completion of the project and provide the most accurate recommendations to fit your schedule, budget, and other needs. One contract means a more unified flow from initial concept through completion of the project.
A design-build is an alternative to the more traditional design-bid-build method where the owner has multiple contracts with separate entities to design and then eventually build the project. The trend of design-build is one of the most significant methods of design and construction today.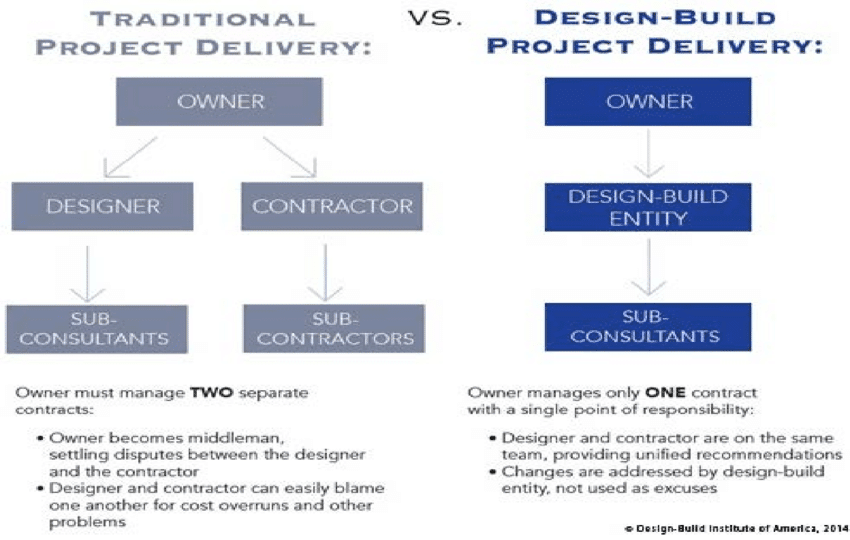 Advantages of Design-Builds
There are many benefits to design-builds. By the very definition of this type of construction, an owner works with only one entity from start to finish. With every step under the same management, from budgeting to design and construction to move-in, everyone works hand-in-hand to streamline the entire process. 
This unique system of innovation and collaboration saves the owner time and money, while also minimizing their risk by having only one entity responsible. With everyone working together to finish a project as efficiently as possible, less time is wasted on communication between contractors, which means a faster delivery for the owner. 
Plus, these types of projects are often of a higher quality than traditional construction projects with projects often turning out better than imagined. With everyone on the same page and dedicated to the same outcome, any changes are addressed by the entire team, leading to more opportunity for innovation and problem-solving.
The P.L. Lyons Way
At P.L. Lyons, we are committed to helping you build the commercial building that checks every box you have. With our commitment to communication and our high standards of workmanship, you never have to worry that your project will take longer, cost more, or not meet your expectations. From concept and design to construction and project completion, the entire P.L. Lyons' team is on your side every step of the way. 
Learn more about our design-build process here.