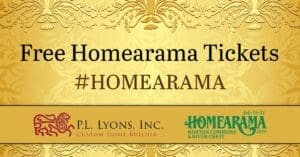 At P. L. Lyons Architectural Builders preparation for Homearama 2016 is in full swing! We can't wait for the event in July and it's always nice to have our community come and see the fruits of all of our hard work. We will have 2 custom-built homes all dolled up for you to tour in Norton Commons by the end of July! Once February hits, we start looking forward to the warm weather, and the Homerama push that leads up to the big event in July. To make things fun in this dreary old winter, we are giving away tickets starting this week.
Normally Homearama tickets cost $10 at the door, but over the next several months, we will be giving away two FREE Homearama tickets a week. We'll give away some on our blog, some via our email newsletter, and some via social channels like Twitter, Facebook, LinkedIn and Houzz. So if you are a big Homearama fan and want to tour the most beautiful homes in the city for free this year, make sure to follow us on Twitter, Facebook, LinkedIn and Houzz and subscribe to our newsletter as well!
This week, we're giving away two tickets to the first two people who read and comment on this blog with why you love Homearama!
The way the process will work every week is as follows: we will announce the contest during each week to determine the weekly winners. Once we pick the winners, we'll get your contact info and add you to our will call spreadsheet. A few weeks before the event, we'll notify you when you can come pick up your tickets, or you give us your information so we can mail them out when they become available. You can only win once.
So over the next 5 months we'll be giving away close to 50 tickets to Homearama fans. Be the first to win this week, by adding a blog comment with why you love Homearama.
And if you would like to be the owner of a Homearama home, check out this blog post on the benefits of building a Homearama home.
Stay tuned for more Homearama updates on our social channels and our blog, and make sure to check out the Homearama website for more details on the event!