Fall is quickly approaching which means that all things pumpkin spice, fantasy football, and cooler weather are soon to accompany it. Along with these changes comes the changes in your home decor. We are all guilty of having a closet or corner of our attic dedicated to housing our seasonal selection of decorations. Its time to break out your boxes and change out your summer items for the fall festivities on the way.
After you build your dream home with the luxury home builders at P.L. Lyons, it is important to focus on the interior aesthetic of your space. We are going to provide our pro tips on how to decorate your home this season by focusing on the 5 senses.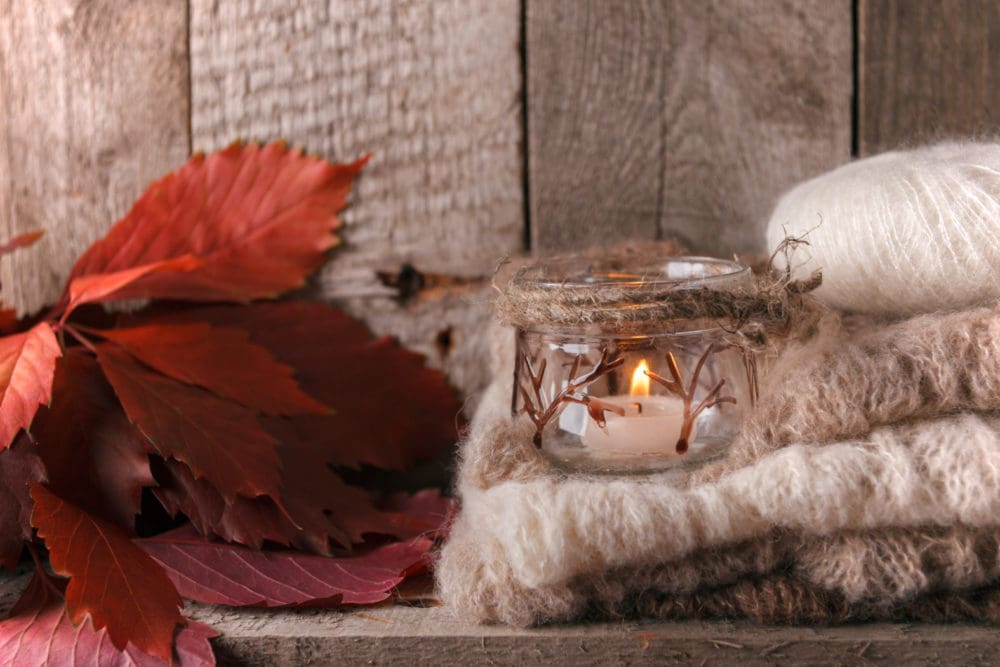 The 5 Senses of Fall Preparation
1. Smell
There is nothing better than walking into your home to the smell of warm apple pie on a crisp fall day. Pumpkin and apple are two of the most popular scents for the fall season. A simple fall scented candle or basket of potpourri can enhance the experience of your home. This is an inviting way to welcome guests and provide a cozy feeling they will enjoy.
This leads us into the next sense, taste.
2. Taste
Taste is a factor that coincides and varies between every season. From popsicles in summer to hot chocolate in winter, fall has its own tasty treats we correlate with the season. As we mentioned previously, pumpkin and apple are also popular flavors of fall. From crisp apple fritters to pumpkin pie, these are fall favorites loved by all ages. Chili is another classic for a cold night that warms up your home with flavors of chili powder and hints of garlic. A healthier option to get your pumpkin fix is roasting pumpkin seeds, adding cinnamon and garlic on top for taste. Apple Cider is a great fall drink to enjoy either chilled or hot.
3. Touch
Oversized sweaters and chunky scarves are fall clothing pieces that are necessary in everyone's wardrobe transition between seasons. Another adjustment to make in your home is adding textures around your home that provide the warm and cozy feeling we all desire. Throw blankets and pillows are great additions to your home's living space. For outdoor space, wreaths are a nice door decoration that add to the aesthetic of your home through an organic approach rather than cheesy store-bought decor. Adding real/fake leaves, hay, or pumpkins and gourds can add texture to the outside of your home that give a fall-friendly curbside appeal.
4. See
Color is a huge component that alters the mood and tone of any space. Fall tends to bring warm colors of rich oranges, golden yellows, and vibrant reds among home decor. These colors are found in nature and coincide from outdoors to indoors. From jumping in a pile of leaves to seeing them fall before your eyes while walking down the street, this is a fall tradition that is a tell-tale sign of the season. Whether it's with the special throw blanket, a centerpiece on the table, or pumpkins on your porch, you can utilize these colors. We guarantee these special touch like that will enhance the experience of your home.
5. Hear
This can be a challenging sense to discuss pertaining to a specific season. Unlike the winter season, fall does not have a set list of tunes we pull out after the first leaves have fallen. With Halloween and Thanksgiving being the main fall holidays, spooky soundtracks can be played during costume parties but we want to avoid cheesy music of this nature during the rest of the season. You might however choose a more folksy or contemplative artist that fits perfectly as background music when you're gathered around a bonfire or sipping coffee slowly on the porch. Around the home, you can hear other sounds that entice feelings of fall. For example, the crackling sound of a fire burning in the fireplace is a indication that cooler weather has arrived.
Fall is almost here and its best to prepare now for the upcoming months. Using the 5 senses is a good way to include all aspects of decor in an easily manageable way. We have suggested our top fall-friendly design ideas without using all the cheesy decorations that take away from the natural essence of the season.
For more information about how P.L. Lyons can help in the journey of building your dream home, contact us here.