Several of the projects we've completed recently have been remodels. Many of them were large-scale projects, also known as a whole home remodel. By talking with our clients, we've compiled a list of the top motivations for this type of project. Here they are:
1. Wanting to Stay Where You are
Many people love their home, their neighbors, and their location, but their home finishes are outdated or they need to accommodate life changes like a shift to working from home or retirement. This is one of the top reasons people choose to do a project, especially a whole home remodel. We like to say, you don't have to move to get a new house. You can transform your home while keeping the parts you love! This is especially true when you partner with a design-build firm like us. We specialize in a seamless integration of the current home with the new design. The average price of a home on the market today plus the process of moving could be more costly to you than investing in updates to your current home.
2. More Livable Space
Whether we're building additional rooms or buildings on your property or repurposing space, this is another reason you might do a large-scale remodel. Most of us can relate to the need for more space.
3. Updated Kitchens
We've remodeled several kitchens around Louisville this past year because the owners wanted to modernize that space. Long ago, a kitchen in a farmhouse really only served the purpose of cooking for the family. Today, a modern kitchen, even one with farmhouse-style finishes, is designed to be aesthetically pleasing and to host guests as much as it is for cooking. Most people want this kitchen to be open and integrated with the Great Room, which is very different from an original farmhouse floor plan.
White countertops, light/brightened finishes, oversized islands for family game night and hosting, these are some of the current trends people like today. However, people also remodel the kitchen to be more functional for cooking and eating. We've installed high-tech appliances and even commercial kitchen equipment for homeowners who cook a lot.

4. Larger, More Luxurious Bathrooms
In recent remodels, we've replaced tubs because homeowners wanted to make room for large showers with high-end finishes. It's also popular to emphasize large vanities and bathroom storage space.

Have you ever entered a bathroom with heated tile? What about a shower or bath you can run remotely? We've installed these in recent years. These features may be far from necessities, but people spent more time at home the past few years, which made the experience of a home even more important. We agree with the saying we should create lives we don't need vacations to escape from. Nothing against travel, but if your en suite bathroom can provide a spa-like experience and your backyard feels like a little oasis, that's a wonderful achievement in our professional opinion.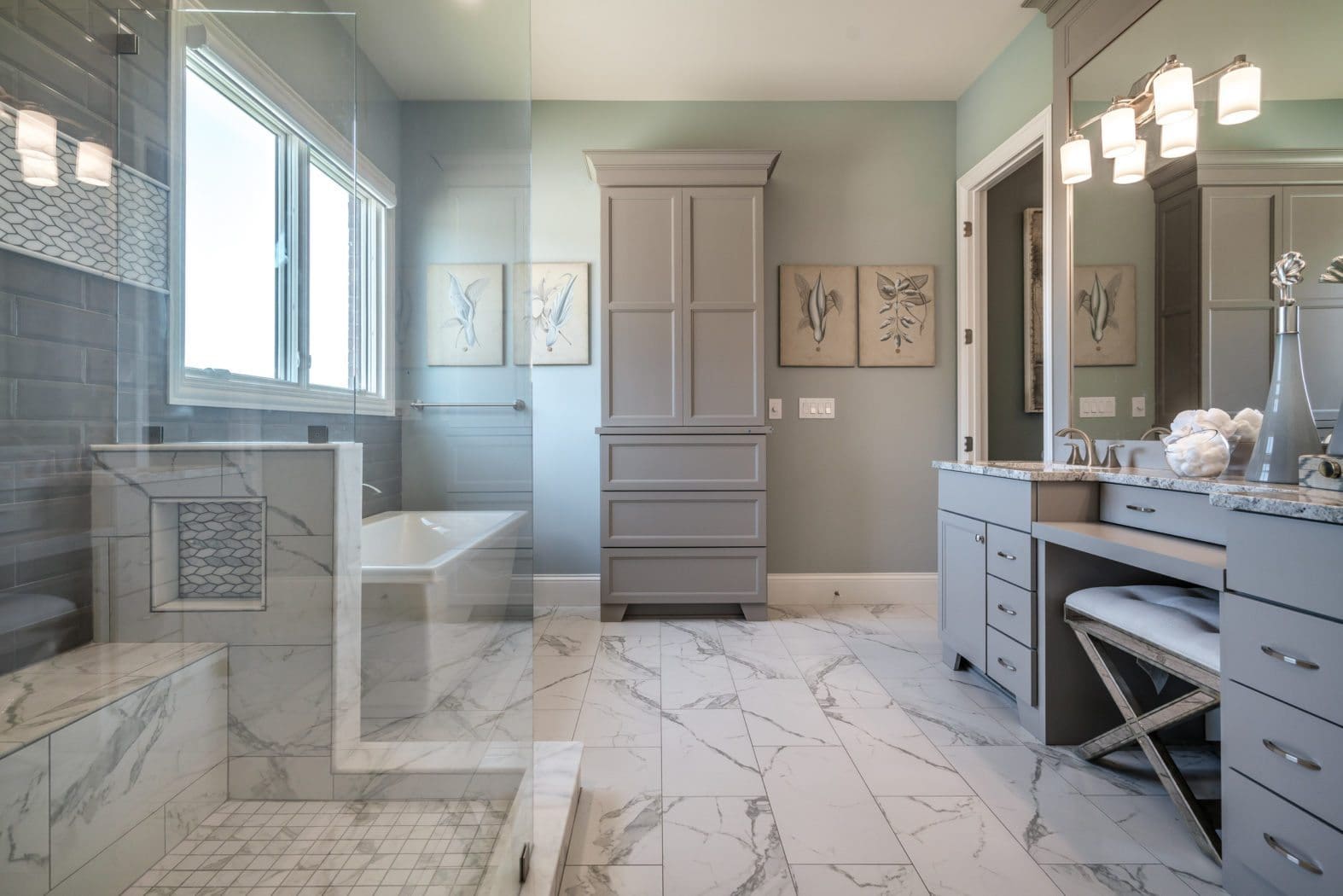 5. New Flooring
If you recently bought a house where the floor was old or not well-maintained, updating the flooring can make a drastic difference in several ways such as brightening the space, improving odor, and making it fit a style that you love.

There are a lot more low-maintenance, high-quality products available now. We've installed them in remodels to replace old carpeting and squeaky floors. We recommend our clients view flooring as a long-term investment. You want something that will look great and last for years to come. You can choose from many designs in order to fit your style and budget, from cottage-core and farmhouse to mid-century modern or traditional interior design.
6. Enjoyable Outdoor Living
We already mentioned having a backyard oasis. From patios and screens to outdoor kitchens, TVs, fans, and pool houses, these are just a few upgrades we've incorporated to create that oasis for homeowners in Louisville.
Whether you just want a better view out your window or you want somewhere to enjoy time with guests or family, you can definitely focus a lot of your whole home remodel on your outdoor space. Maybe that includes painting your entire home exterior. In a remodel in the Highlands recently, we built a garage connected to their home.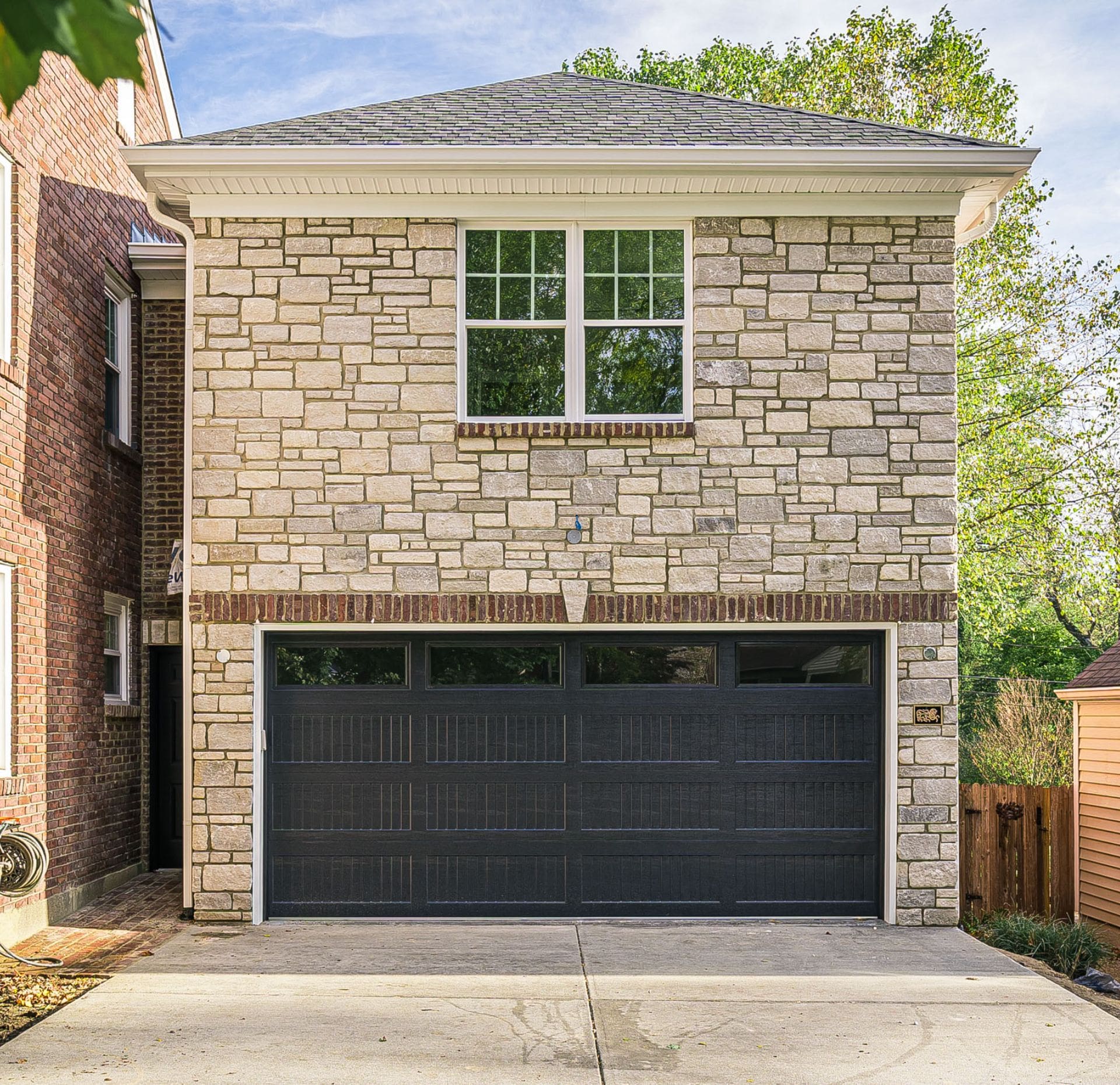 7. Lighting
Many homes in the past included smaller rooms and fewer windows. Today, many people desire natural light and specialty lighting such as lots of recessed lighting, under-counter lighting, and accent lighting in addition to larger windows and doors.

Just like we said about flooring, this decision can have a major impact on the aesthetic of your home. We've had clients who wanted to spend a significant part of their budget on lighting, for example custom pieces that are like artwork and served as a focal point of a room and also lighting with smart-features that allowed them versatility and ease of use.
Is a Whole Home Remodel Right for You?
There are a few ways to go about updating your home. Sometimes painting the wall a new color or changing out furniture is all you need to freshen things up. Other times, a large-scale or whole home remodel is the right decision to make the most of your home. Just because it is a more involved plan including more time and probably more square footage, that shouldn't deter you from experiencing the transformation you're looking for.
Don't forget! There is a difference when you work with experienced architects and contractors, especially when they are part of a design-build firm. From concept to construction, from the initial design phase all the way to the first moment you begin living in your new space, a design-build firm has oversight of the entire process. We can't overemphasize the difference this makes in a remodeling experience. We are a design-build firm, and we've offered a great remodeling experience to homeowners for almost 50 years. We have the portfolio to prove it.
If you want to see a great example of a whole remodel we've completed recently, join us at the Tour of Remodeled Homes coming soon on August 13 & 14 from Noon to 6:00pm ET. Our featured home is located at 2022 Winston Avenue Louisville, KY 40205 in the historic Highlands neighborhood.